World War I (WWI) featured many technological advances from machine guns to tanks, which caused higher casualties on both sides. However, the soldiers who returned from WWI were not the same men who had left.
Many soldiers both during and after WWI had severe facial wounds stemming from the Western Front that had never been seen before in warfare.
Bursts of bullets, detonating metal shells, and resulting shrapnel tore the flesh and disfigured the men in the trenches during the war.
The benches outside London's Queen's Hospital were reserved with men who were deformed during the war, and a painted sign warned the locals they might want to avert their eyes to avoid seeing the wounds the men experienced and to save both themselves and the young men from another look of horror.
WWI became a graphic war with losses of cheekbones, jaws, and more, and facial disfigurements became common.
Anna Coleman Ladd was a sculptor who became aware of these soldiers' issues and decided she wanted to help by creating facial prosthetic masks for the men to return to normalcy once again.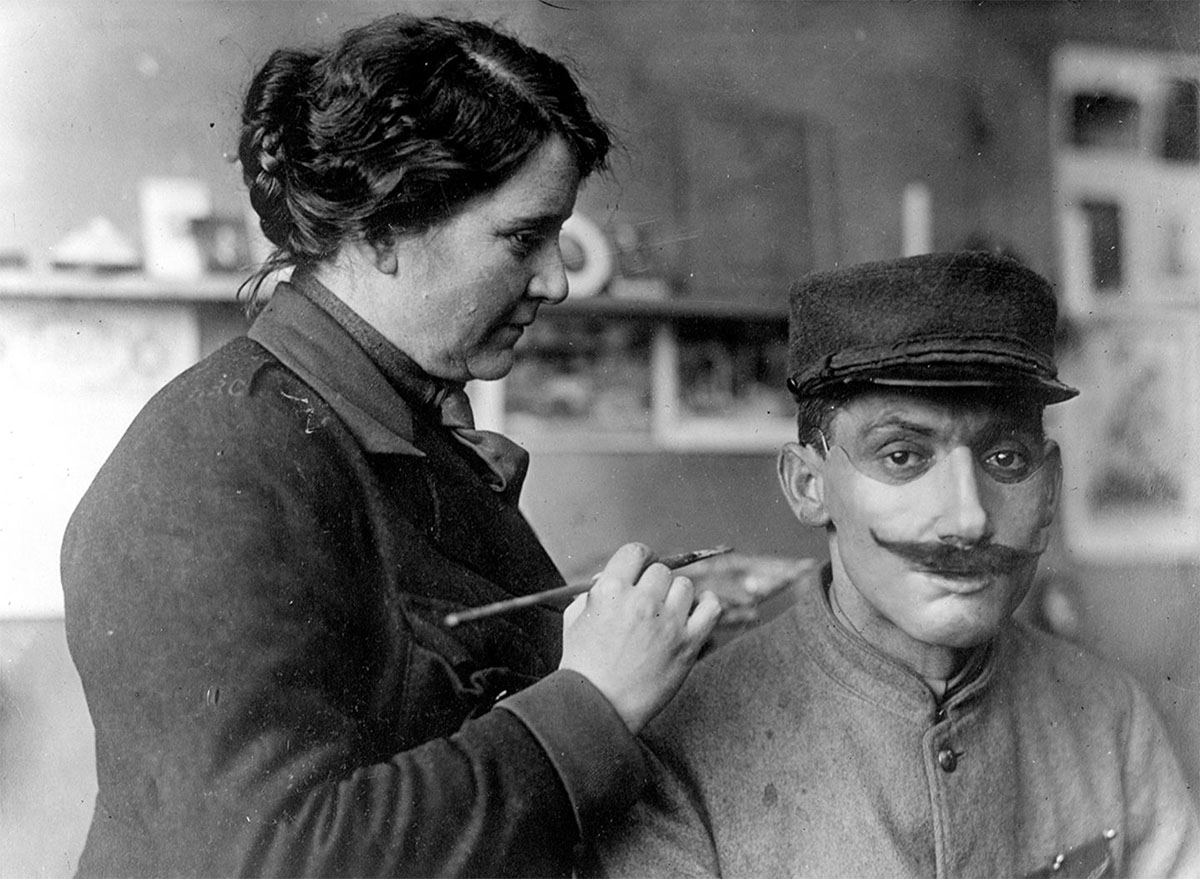 10

/

10
Anna During World War I
Anna was a well-known sculptor in Boston who was impacted by World War I (WWI). Like many other American women, she spent a significant amount of time supporting the war effort.
She worked with the Red Cross, where she put her artistic talents to use.
She founded the Studio for Portrait Masks in Paris, where she and several helpers created prosthetic masks for soldiers who suffered from combat-related injuries.
Her work even earned her the Légion d'Honneur Croix de Chevalier and the Serbian Order of Saint Sava.
9

/

10
Need For Prosthetics
Due to WWI having advanced in artillery and machine guns, facial disfigurement became much more prevalent.
In addition, due to these military technology advancements, many different weapons and strategies were used than other wars before.
Innovations included machine guns, grenades, artillery, submarines, poison gas, warplanes, and tanks. Unfortunately, these new technologies resulted in ineffective battles with considerable casualties for both sides.
8

/

10
Anna's Process For Creating Masks
Using her artistic talent, she created realistic facial reconstruction masks for soldiers who had disfigurement.
First, casts were taken of the entire face. A thin sheet of galvanized copper was then made. A metal likeness was then painted by Anna using hard enamel with a flesh-colored tone.
She then painted the mask while the soldier wore it and used natural hair to make eyebrows, eyelashes, and mustaches.
Each show was a month-long process, and spectacles were held on the completed ones. It is estimated she made close to 97 masks and spent a total of 11 months in Paris.
7

/

10
Modern Day Similarities
Today, Anna's work is called anaplastology and is considered the art, craft, and science, of fixing short or deformed anatomy through synthetic ways.
In February 2007, an article featured in Smithsonian titled "Rivaling Nature" featured Erin Donaldson, an anaplastologist from Beverly, MA.
The report covered a modern-day perspective on the benefits and purpose of facial prosthetics for patients in civilian and veteran sectors and the impact the field can have, particularly on soldiers returning from the Iraq War.
6

/

10
Anna's Pre-WWI Life
Born Anna Coleman Watts in Bryn Mawr, Pennsylvania, she was educated in Europe and studied sculpture in Paris and Rome. She then married Dr. Maynard Ladd in Salisbury, England, and became Anna Coleman Ladd.
They soon moved to Boston, where she studied with Bela Pratt for three years at the Boston Museum School.
5

/

10
Exhibiting Her Work
Several of her pieces were soon exhibited. For example, her Triton Babies piece was shown at the 1915 Panama-Pacific Exposition in San Francisco. Currently, it is a fountain sculpture in the Boston Public Garden.
She was also a founding member of the Guild of Boston Artists in 1914 and had exhibitions of her work in both opening show and traveling exhibit that followed where she was a one-woman show.
Her sculptures still had mythological characters throughout her career, and as they surface, they are still sold in auctions today.
4

/

10
Anna The Author
Anna was also an author who wrote two books. She enjoyed challenging herself on multiple artistic fronts and decided she wanted to be a writer as well.
Her first book, Hieronymus Rides, was based on a medieval romance, and she worked on It for several years before it was published.
Her other novel, The Candid Adventurer, was a sendup of Boston society in 1913. She also wrote at least two unproduced plays, including one about a female sculptor who went to war and was many heroes.
3

/

10
Working On The War Effort
Her husband was soon appointed to direct the Children's Bureau of the American Red Cross in Toul. While Anna stayed on the home front, she soon looked for ways to help the war effort.
During her search, she came across the work of Francis Derwent Wood in London.
He worked to create lifelike masks to aid soldiers with facial disfigurement. She soon contacted him, and they worked to improve the mask techniques together.
2

/

10
Receiving Permission To Go
After improving the mask techniques, she applied for permission to head to France to work with the soldiers.
However, to go, she needed special permission from General Pershing as it was forbidden for husbands and wives to serve in war zones at the same time.
However, she soon received approval and worked with the American Red Cross to get to France.
1

/

10
Anna's Retirement
With the end of WWI, Anna still did not stop her artistic work. She completed a war memorial that the Manchester commissioned by the Sea American Legion depicted a decayed corpse on a barbed-wire fence.
Anna also received the French Government honor as a Knight of the Legion of Honor for her work during the war in 1932. Eventually, she retired in 1936 with her husband to California, where she passed away in 1939.
She was survived by her daughters Gabriella May Ladd and Vernon Abbot Ladd, who died in 1970. Several sculptures are still showcased, including Triton Babies, located on Boston's Women Heritage Trial.