World War I (WWI) featured many technological advances from machine guns to tanks, which caused higher casualties on both sides. However, the soldiers who returned from WWI were not the same men who had left.
Many soldiers both during and after WWI had severe facial wounds stemming from the Western Front that had never been seen before in warfare.
Bursts of bullets, detonating metal shells, and resulting shrapnel tore the flesh and disfigured the men in the trenches during the war.
The benches outside London's Queen's Hospital were reserved with men who were deformed during the war, and a painted sign warned the locals they might want to avert their eyes to avoid seeing the wounds the men experienced and to save both themselves and the young men from another look of horror.
WWI became a graphic war with losses of cheekbones, jaws, and more, and facial disfigurements became common.
Anna Coleman Ladd was a sculptor who became aware of these soldiers' issues and decided she wanted to help by creating facial prosthetic masks for the men to return to normalcy once again.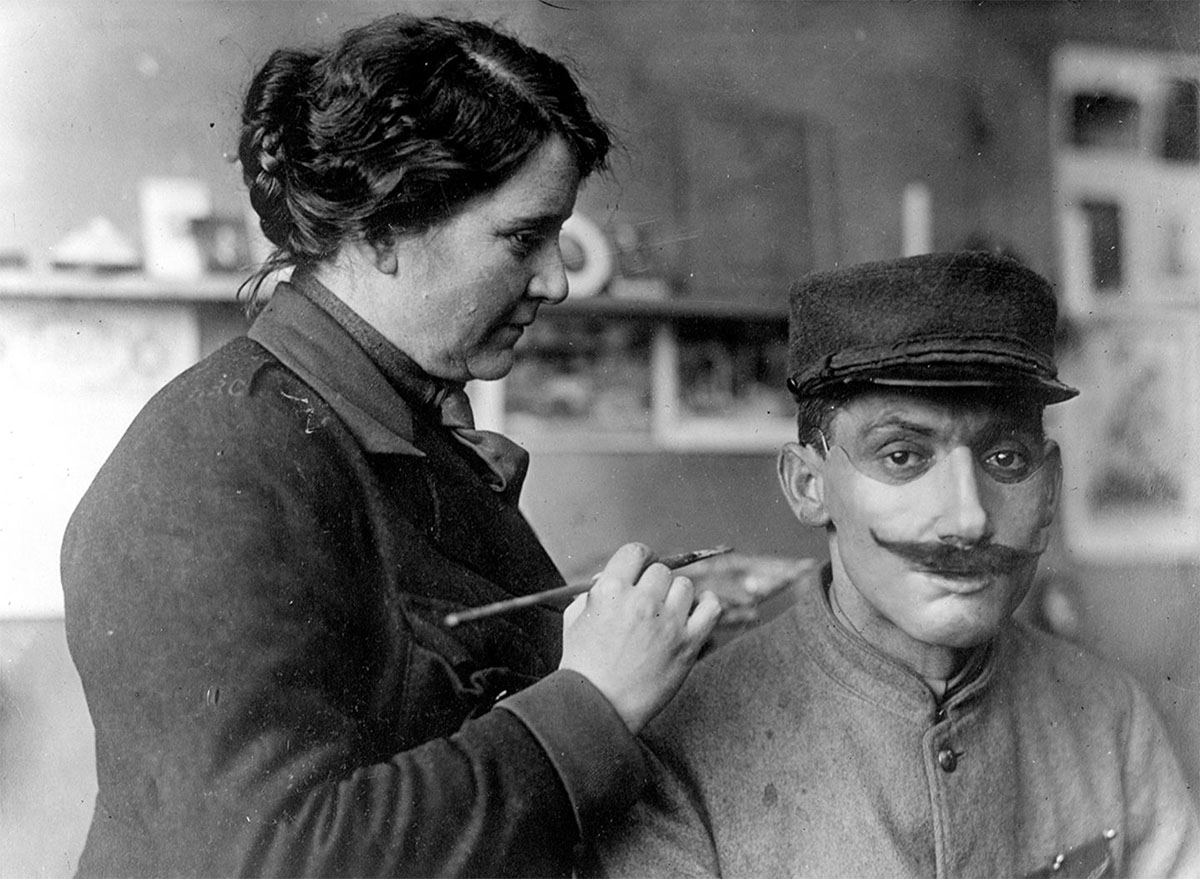 10

/

10
Anna During World War I
Anna was a well-known sculptor in Boston who was impacted by World War I (WWI). Like many other American women, she spent a significant amount of time supporting the war effort.
She worked with the Red Cross, where she put her artistic talents to use.
She founded the Studio for Portrait Masks in Paris, where she and several helpers created prosthetic masks for soldiers who suffered from combat-related injuries.
Her work even earned her the Légion d'Honneur Croix de Chevalier and the Serbian Order of Saint Sava.
9

/

10
Need For Prosthetics
Due to WWI having advanced in artillery and machine guns, facial disfigurement became much more prevalent.
In addition, due to these military technology advancements, many different weapons and strategies were used than other wars before.
Innovations included machine guns, grenades, artillery, submarines, poison gas, warplanes, and tanks. Unfortunately, these new technologies resulted in ineffective battles with considerable casualties for both sides.